Famous cell phones website GSMArena.com is doing heavy battery life tests on some of the top class smartphones.
So far they've tested several phones, and we're trying to combine and compare the results.
Here are cumulative charts for tested phones:
Nokia N9
Apple iPhone 4s
Samsung Galaxy Note N7000
Sony Ericsson Xperia Pro
Samsung Galaxy S II (the last phone tested so its charts are green)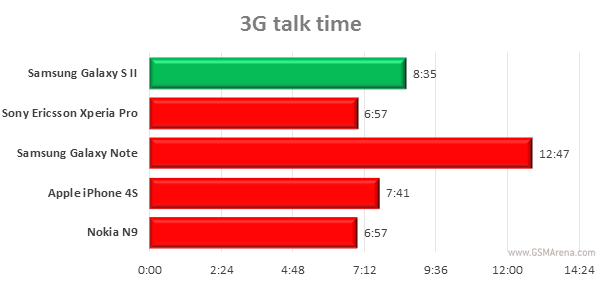 Nokia N9 got cumulative score of 39, which means that it needs to be charged every 39 hours if you use 1 hour of each of tested features every day (3G Talk, Web Browsing, Video Playback).
Sony Ericsson Xperia Pro has good stand-by, but poor video playback performance so it only got an endurance rating of 37.
Samsung Galaxy Note N7000 is very good if you're making 3G voice calls, but it is poor in web surfing. This gives it cumulative endurance score of 39, which is same as one of Nokia N9.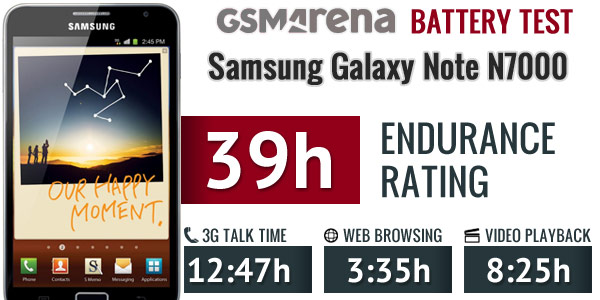 Samsung Galaxy S II will give you 40 hours of battery power if you use it 1 hour a day for 3G calls, web surfing and video playback, which is not bad at all, but still far from iPhone 4s impressive score of 45.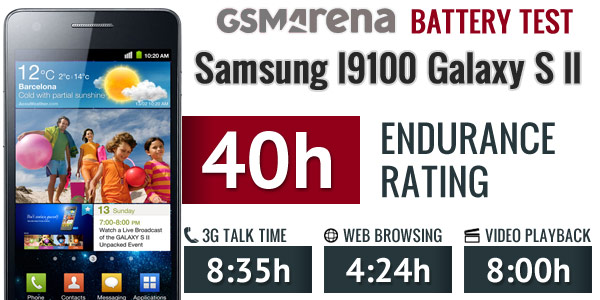 Apple iPhone 4s is the overall winner of those tests – it has battery endurance score 45. Having in mind that the phone was tested with iOS 5.0.1 which still doesn't have all of the battery life problems solved. With new iOS update difference in battery life between iPhone 4s and competitors can get even bigger.