You want to access a Windows application from iPad without sitting by your desktop PC or notebook? Ever wanted to have control over your PC from bed using iPhone? Here' simple how to access PC from iPhone or iPad.
Among several apps on this topic in iTunes, there's app which is pretty useful and free, called Mocha Remote Desktop Lite:
http://itunes.apple.com/us/app/remote-desktop-lite-rdp/id288362576?mt=8
It allows you to control your Windows based PC via Local Area Network or via Internet. We'll describe how to do it over WiFi in LAN in Windows 7, having in mind that most of the people has that configuration. Note that if your Windows is Home edition you won't be able to do this.
No matter which remote desktop app you choose, you'll have to configure your Windows first. Here's quick instruction how to configure Remote Desktop for Windows 7:
For info on Windows XP follow this link
1. Right click on Computer in Start Menu and choose Properties
2. Choose Remote Settings
3. And then enable Remote Desktop by selecting Allow connections from computers running any version of Remote Desktop
Note: You need to have password for your Windows user. If the password is not set you can do it in Control Panel\User Accounts and Family Safety\User Accounts
When all in Windows 7 is set you can start Remote Desktop Lite – RDP on your iPhone/iPad and click Configure. You'll get following screen where you fill in your info.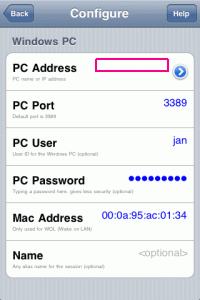 If you don't want to be asked for user/password each time enter it… And the main thing is PC Adress. If you're on the local WiFi – PC address should be name of your computer with \ in front (for example: \Desktop)
For info on connecting your remote desktop over the public WiFi, EDGE or 3G data bearer over Internet go to official app help.
Note: By default Windows policy only one user can be logged at a time with same username, therefore when you log in from your iOS device, you'll be logged out from your desktop PC and vice versa.